This is a drink that has been in the back of my mind for a while, and this past weekend I finally summoned the motivation to mix it up. I think it was a roaring success, the color maybe not withstanding. One of my favorite snacks is a type of Indian street food called bhel puri, which is made from puffed rice, crunchy chickpea flour noodles, fried wheat crackers, and seasoned with onions, fresh herbs, and a few kinds of chutney. Sometimes I make this dish at home, and when I do, I make a mint chutney which is a beautiful vibrant green, and a tamarind chutney, which comes out in a, well, let's say a delicious shade of brown.
Below is a picture of a bhel puri that I stole from the internet.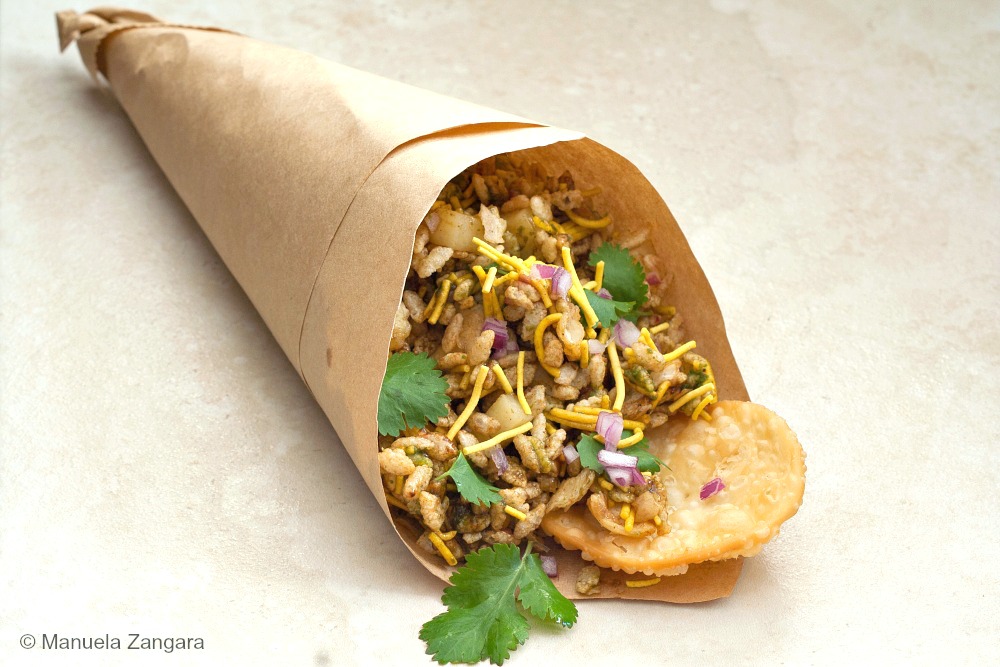 When I prepare tamarind chutney at home, I am always struck by how delicious it is, and how very much I want it to be a cocktail. I have visited a few Indian restaurants lately around the Washington DC area, some of which even use Indian ingredients in their cocktail menus, but I have not been able to find a drink that really integrates the brilliance of Indian spices with the best of modern mixology. I believe the flavor in this drink is outstanding.
Tamarind Chutney (via Serious Eats)
2 cups water
2 tablespoons tamarind concentrate
1 cup jaggery sugar
1/2 teaspoon black salt or Kosher salt
1/2 teaspoon cayenne pepper
1/2 teaspoon ground cumin
1/2 teaspoon ginger powder
Reduce until thick and strain.
This chutney is so flavorful that you may want to eat it with a spoon. Certainly you could mix it with seltzer water to make a refreshing tamarind soda. I carefully added the sugar to the mixture a little bit at a time, because I wanted to find the right balance of sweetness and tartness. Tamarind is aggressively sour, and we want to retain some of that in the final product.
Maliciously Do The Superfluous
1 oz Tamarind Chutney
1 oz Rye (Rittenhouse)
.5 oz Demerara Rum (El Dorado 12)
1 barspoon aged balsamic vinegar
Shake, strain, garnish with a cilantro sprig.
The balsamic vinegar doesn't "go" from a cultural perspective, but it was exactly the right end note to cut through the richness of the tamarind and the brown spirits. You can get your cilantro to "float" above the waterline of the glass if you leave a long enough stem on it to prop it up. This works because the drink has a muddy color that hides the stem.
If I were trying to max out the presentation in a bar or restaurant, I would add a bit of red food coloring, because many of the chutneys you see have a reddish purple color that I think would look a lot better in the glass. The other solution is to serve it on the rocks in some kind of ceramic tiki mug, or a tumbler made out of hammered copper, something like that.
Cheers.